New York Preview: 3-5 May 2013
10×10 American Photobooks is a photobook event with a reading room, online component and publication that presents American artists' photobooks from the last 25 years.
NYC Preview [Press Release]
Opening Reception: Friday, 3 May 2013, from 7 to 9
4-5 May, from 12 to 8

Ten10 Studios
10-10 47th Road
Long Island City
10×10 American Photobooks presents 100 contemporary American photobooks selected by 10 specialists in a reading room and an additional 200 books online from the perspective of 10 American and 10 Japanese online photobook specialists. (The Japanese selection will be launched during the Tokyo preview in September 2013). By emphasizing the selections from the 30 leading voices in the photobook community, 10×10 provides a concise and well-researched selection for both the seasoned and new viewer of contemporary American artists' photobooks.
10×10 American Photobooks travelled to Tokyo for a 4 week run at the Tokyo Institute of Photography (11 September to 6 October 2013). At the end of the event, all the books in the project will be donated to the Tokyo Metropolitan Museum of Photography Library.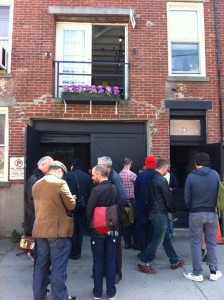 10×10 American Photobooks Panel Discussion
In addition to the exhibition, 10×10 held a panel discussion titled "How independent and self-publishers are currently reshaping the American photobook." A conversation between project contributors David Senior / Museum of Modern Art Library, Christina Labey / Conveyor Arts, Nicholas Muellner / editor SPBH Pamphlet, Self Publish, Be Happy, moderated by independent curator Fionn Meade. The panel took place on Sunday, 5 May 2013. Watch archived webcast here.
10×10 American Photobooks Publication
In conjunction with 10×10 American Photobooks, a catalogue was produced by bookdummypress to document the show. The catalogue includes illustrated selections from all the specialists, along with previously unpublished essays on American photobooks by noted artists, writers, publishers, curators and bibliophiles. The catalogue can be order from this website for $75.
10×10 American Photobooks Team
Co-organizers: Matthew Carson, Russet Lederman and Olga Yatskevich
Publication Design and Production: Victor Sira and Shiori Kawasaki
Photography and A/V: Mathieu Asselin
Research, installation, editing and support: Jeff Gutterman, Liz Sales, Deirdre Donohue, Christina Mazzei, Ashley McNelis, Cian O'Donaghue and Emily Rubin