AWAKE: Protest, Liberty and Resistance Reading Room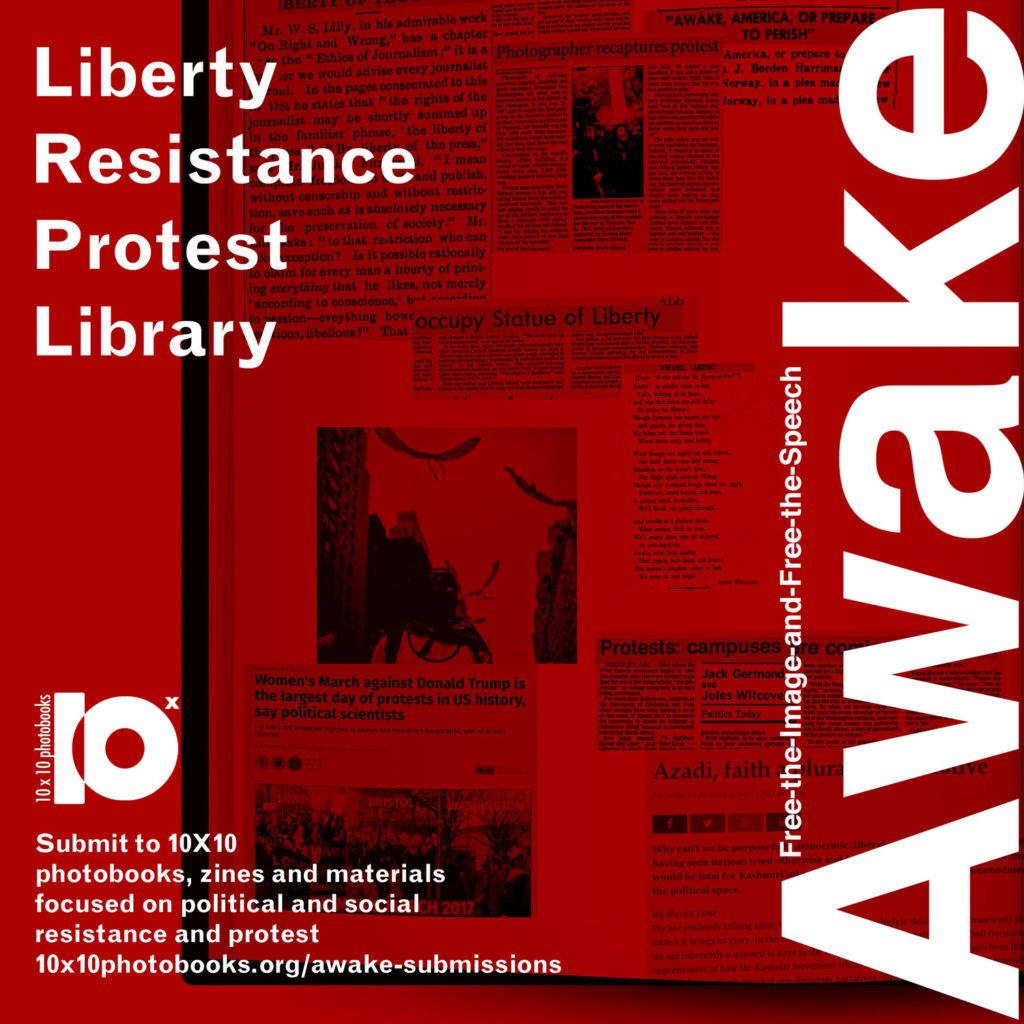 THE AWAKE READING ROOM
An Evolving Photobook Library of Protest, Liberty and Resistance
Free-the-Image-and-Free-the-Speech
Reading Room Locations:
PGH Photo Fair
Carnegie Museum of Art / Pittsburgh
April 29-30, 2017
Magnum Foundation / New York City
June 17, 2017
(At the 10×10 Awake Book Bazaar and Library at the Magnum Foundation)
Image Text Ithaca Symposium / Ithaca, NY
June 30-July 1, 2017
Massachusetts College of Art and Design / Boston, MA
December 4-5, 2017
The 10×10 AWAKE Reading Room is an evolving library of books, zines and photography-related materials that responds to issues of liberty, resistance and social protest.
Presented as either objects of protests in themselves or documents of protest by others, the printed materials that form the ongoing 10×10 AWAKE Reading Room have been collected through a global open-call to artists and photographers. A selection of these submitted materials – in tandem with historical protest and resistance photobooks on loan from sponsoring institutions – are presented in this new AWAKE Reading Room.
The books, zines and ephemera have been grouped into loose themes. No specific political or social agenda is endorsed by 10×10 Photobooks in the formation of this library. The sole purpose of this Reading Room is to explore the role of the arts and the artist during a period of significant political and social change. Please note that we do not sell these Reading Room titles – most can be purchased online via the artists or publishers.
Please browse and consider contributing your own photo-based work to future 10×10 AWAKE Reading Rooms.
Submission Guidelines for AWAKE!
This is a completely open call for photobooks, zines and photobook-related materials responding to liberty, resistance and the political environment of today.
We are receptive to all and anything that is created or has been created (as long as it is book-related). We only ask that the submitter tell us how their book relates to liberty and resistance.
The first Awake! Reading Room was exhibited at the PGH Photo Fair at the Carnegie Museum of Art (Pittsburgh), April 29-30, 2017, followed by a reading room, book and zine bazaar at the Magnum Foundation (NYC) on June 17, 2017, and reading rooms at Image Text Ithaca and Massachusetts College of Art and Design. Only a rotating selection of the zines, books and materials submitted will be exhibited in the reading rooms. However we will find a suitable home in an institution or library for ALL materials submitted. Therefore, all materials will eventually have a home in the world providing free access to the public.
Submissions are now closed.

My Lens Our Ferguson by Adrian Octavius Walker


Die Wachsamen Augen der Angela M. (The Alert Eyes of Angela M.) by Nico Baumgarten


National Trust by Jay Turner Frey