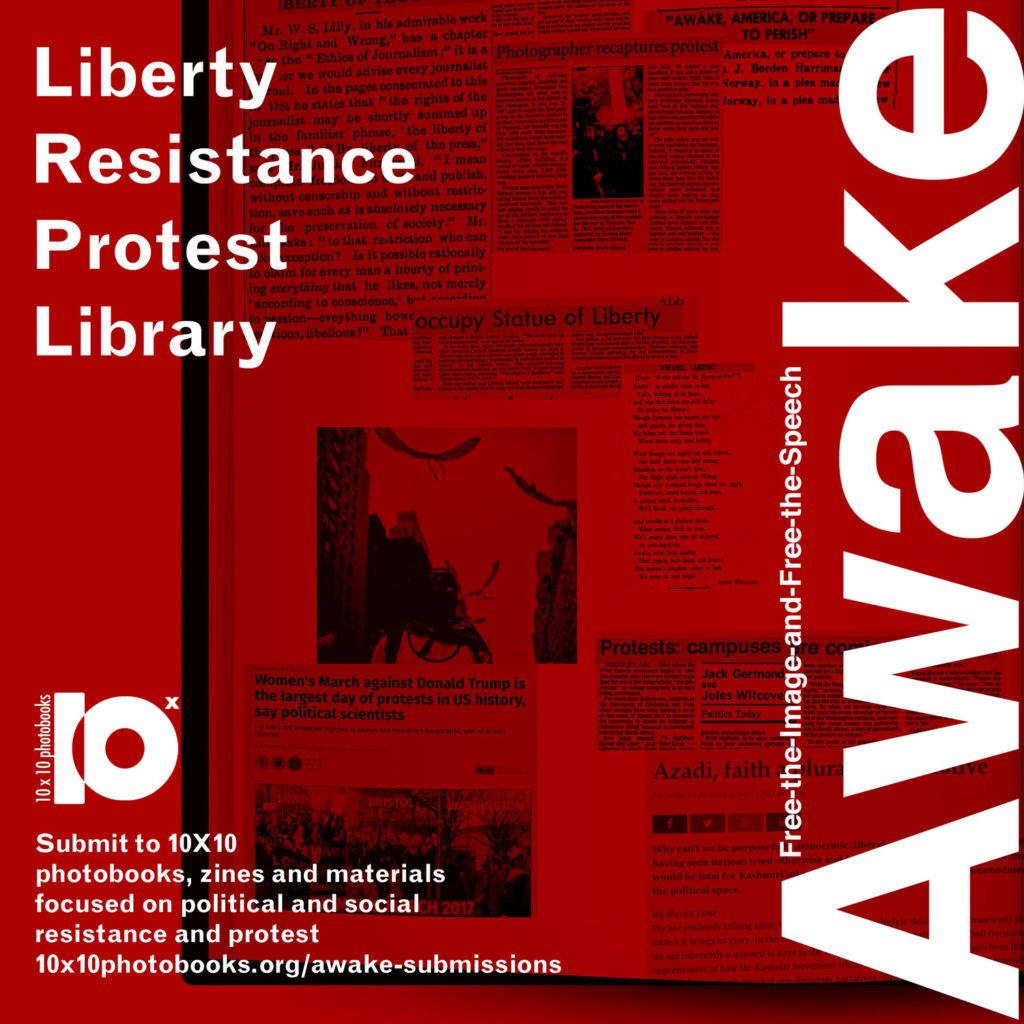 AWAKE!
An Evolving Photobook Library of Liberty and Resistance
Free-the-Image-and-Free-the-Speech
An open call by 10×10 Photobooks for photobooks, zines and photobook-related materials focused on political and social protest. Submit here!
The contemporary world is in a state of upheaval and transformation. We are living in a time where the political environment is murky, disorientating and ugly. The discussion now urgently shifts to the role of the arts and the artist during this period of dramatic and crucial political and social change. This is also applied to the role of photography and the photobook. 10×10 Photobooks will be providing a platform for the sharing of these extremely important ideas. With this in mind, and drawing upon the long and profound history of protest photobooks, 10×10 is placing an open call for contemporary photobooks focused on social and political themes.
We are looking for contemporary artists' books, zines, photobooks and photobook-related materials that assert their dissatisfaction, their dissent and their protest with the world today. We are living in a time where power resides in the hands of too few, and we rightfully and across the globe are outraged. Documentarians, artists and creators are all responding in a myriad of different ways: 10×10 is not looking to define your protest. Our mission is to bring together your voices existing and provide amplification through a series of touring AWAKE! reading rooms.
Awake! is a space where your voices and your eyes do not have to be compromised. By sharing all our ideas and creations together, we can establish some clarity on our communal thoughts and utilize this information to establish a true and coherent opposition to the tyrannies that are currently trying to erode our liberties, rights and freedoms that have taken generations of struggle to achieve. Please join us in this Cry for Freedom and participate in Awake!
Submission Guidelines for AWAKE!
This is a completely open call for photobooks, zines and photobook-related materials responding to liberty, resistance and the political environment of today. Please follow this link to submit your work.
We are receptive to all and anything that is created or has been created (as long as it is book-related). We only ask that the submitter tell us how their book relates to liberty and resistance.
The first Awake! Reading Room will be exhibited at the PGH Photo Fair at the Carnegie Museum of Art (Pittsburgh) from April 29 to 30, 2017, followed by a reading room, book and zine bazaar at the Magnum Foundation (NYC) from 17 to 18 June 2017. Only a rotating selection of the zines, books and materials submitted will be exhibited in the reading rooms. However we will find a suitable home in an institution or library for ALL materials submitted. Therefore, all materials will eventually have a home in the world providing free access to the public.
Only submissions received by May 15, 2017 will be considered for inclusion in the Awake! Reading Room, Book and Zine Bazaar at the Magnum Foundation (NYC).
Read More