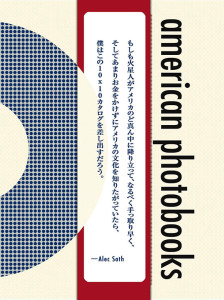 10×10 American Photobooks.
Edited by Matthew Carson, Russet Lederman and Olga Yatskevich. New York: 10×10 Photobooks and bookdummypress, 2013.
4to.; illustrated throughout in color and black-and-white; newsprint booklet insert; illustrated soft cover with printed vertical belly band.
Limited First Edition of 500.
Text in English and Japanese.
152 pages, 7.25 x 10 inches.
ISBN: 978-0-9896888-0-2
Limited supply remains, please email to inquire
Essays by David Levi Strauss, Tony White, Miwa Susuda, Ken Schles, Evan Mirapaul, Andrew Roth, Bernard Yenelouis, Michael Saur, Bryan Formhals and William E. Jones.
Designed in collaboration with Victor Sira and Shiori Kawasaki of bookdummypress, the publication is a way for you to experience the entire 10×10 project. This inventive Japanese manga design-inspired bilingual (Japanese-English) publication comes with a special newsprint insert designed by Pierre Le Hors and Tuomas Korpijaakko. As a comprehensive overview of the 10×10 American Photobooks project, it presents illustrated selection lists from all the specialists, along with essays on American photobook culture by noted artists, writers, publishers, curators and bibliophiles.
10×10プロジェクトを存分に体験するための特別な本が、ニューヨークをベースに活動するbookdummypressとのコラボレーションによって生まれます。日本のマンガにデザインのインスピレーションを得たこの出版物は、2013年9月に東京で開催されるイベントにあわせて出版されます。本は日英バイリンガル仕様となり、スペシャリストが選んだアメリカの写真集全セレクションに加え、著名なアーティスト、ライター、パブリッシャー、キュレーター、蔵書家によるアメリカ写真集カルチャーに関する書き下ろしのエッセイを掲載。現代アメリカの写真集を知る上で必携の書です。
$75 (送料込)
---
2 Self Publish, Be Happy pamphlets 
Self Publish, Be Happy produced two special edition pamphlets for 10×10 American Photobooks, featuring newly commissioned work by Jason Fulford, Anouk Kruithof, Hillery Bosworth and Chris Mills. Inspired by the themes of 10×10, the pamphlets explore the character of the book collector: a figure of manias, fetishes and mysteries.
SPBH Pamphlet, edited by Nicholas Muellner, is a platform for placing contemporary writing and photography in conver­sation. Each single-sheet publication features a new photographic work by an artist and a short original text by a contemporary author. These two forces neither illustrate nor explain one another. They talk to each other through the thickness of the page.
Both pamphlets are available during the Tokyo run of the reading room from 11 September – 6 October 2013.